Wiarton's Sawmills
Background:
With an abundance of trees on the (Saugeen) Bruce Peninsula, sawmills were a natural industry for Wiarton when it was first settled in 1866, particularly given its access to shipping and a naturally sheltered harbour. By this time, the best trees had already been felled along the north shore of Lake Ontario, so the industry was pushing north into the Georgian Bay area, including the Bruce Peninsula (MacDowell 2012). As documented in The Bruce Beckons (1952) by William Sherwood Fox, the "virgin" forests of the Bruce consisted mainly of coniferous (i.e., evergreen) trees (also known as softwoods) such as pine, spruce, cedar, tamarac and hemlock along the west coast and northern half of the Peninsula, and deciduous trees (also known as hardwoods) such as maple, beech, elm, oak ash, birch and basswood toward the east side. White pine was the most desirable because it is soft, light and easy to work with. The first generation of pine to be cut was also taller and comparatively free of knots (Cowan 1966).
Trees were typically cut during the winter when labour was relatively cheap and the sap was not running in the trees. The logs were then pulled by oxen or horse to the nearest suitable waterway. In the spring, the lumber was floated downstream to sawmills. In the case of Wiarton, the logs were floated in as large rafts towed by tugboats. As described in The Bruce Beckons, at that time of year the lower part of Colpoy's Bay was "a vast expanse of logs marshalled into large booms…extend[ing] from the town dock far down the bay." As an aside, some logs transported by this way would inevitably be lost during the trip and eventually sink. Although the "old growth" forests were cut down long ago, companies still operate today recovering submerged "old growth" logs from the bottom of Georgian Bay. The resulting wood is processed and sold as premium flooring. (For an example, see: http://aquatimber.com/pages/5)
Aside from pine, Wiarton's sawmills produced a number of products using different types of trees. Hardwoods were cut for use in furniture, while cedar was prepared for use as posts and railroad ties (WS Fox 1952). Seaman and Newman, one of Wiarton's main sawmill firms (described further below) even won a government contract and supplied six million feet of hemlock boards in the 1890s for use in the construction of the canal at Sault Ste Marie. The sawn wood was assembled into large rafts 125 feet long, 25 to 30 feet wide and 13 feet high and towed to its destination (WS Fox 1952). More generally, lumber was also often shipped out by boat, as shown in Figure W22A.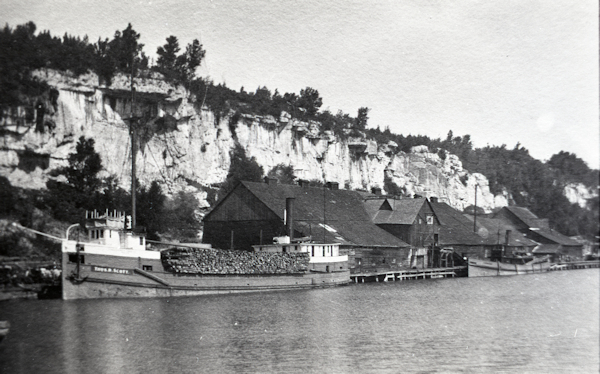 Figure W22A: Lumber loaded abord the Thomas R. Scott (Wiarton Fish House in the background) - before 1920.
After the arrival of the railway in Wiarton in 1881/2, train transport also became important for the town's sawmills. In one season, the Grand Trunk railway moved 800,000 railway ties that had been sawn at Wiarton's mills. In the summer, it was also common to see trains leaving town with 25 cars full of lumber and ties each day (WS Fox 1952).
However, the clock was ticking. By the beginning of the first world war, the stock of valuable timber in the Georgian Bay area had essentially been exhausted. As we shall see, Wiarton's multitude of sawmills shut down one by one.>

Where Were Wiarton's Sawmills Located?
Figure W22B shows a modern satellite image of Wiarton's shoreline indicating the approximate location of the various sawmills that operated in Wiarton over the years. I will refer back to this image throughout this page.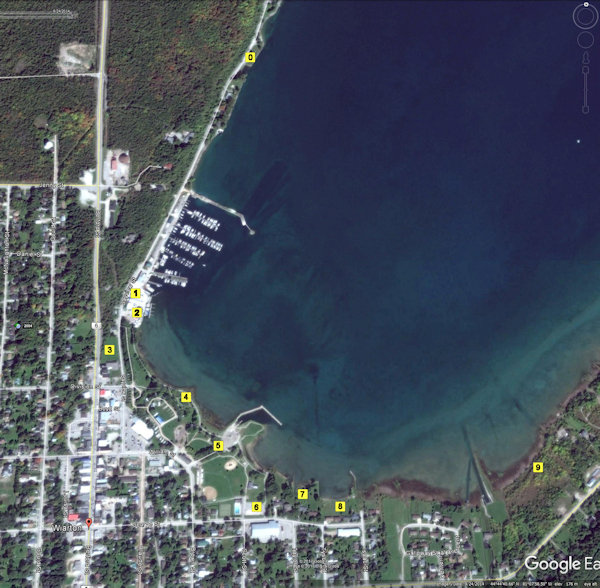 Figure W22B: Map showing the approximate locations of Wiarton's sawmills over time.
Legend:
Charles Witthun (May 1899 – April 1902)
John Ashcroft (1872 to at least 1888 and before 1894); Gideon Kastner (1894 - 1902)
Arthur Jones (1873 to 1902); Gideon Kastner (1902 to 1926)
Thomas Gilpin & A. Williams (late 1860s to about 1874)
John Kidd (1882 – 1897); Robert Watt (1897 – 1905); Niebergall, Hunter & Crawford then Hunter, Crawford and Johnston (Apr. 1905 – Nov. 1916)
James Sills & Co. (Spring 1882 – May 1886); William Young (May 1886 – July 1886); Seaman & Newman/JP Newman (Oct. 1889 - 1923)
Joseph Blake & Mr. Cross (1879-1880); Inksetter & Young (1882 – 1899); Siemon Bros. (1899 – 1903)
TJ Moore (Mar. 1911 – Aug. 1945)
EM Miers (Sept. 1907 – Dec. 1913)
George Niebergall (1906 – Nov. 1914); Siemon Bros. (1914 – 1919)
Chronology of Wiarton's Sawmills:
The first sawmill in Wiarton was established in the late 1860s by Thomas Gilpin and Dr. A. Williams [Location 3 in Figure W22B]. Production had shut down by 1875 when Thomas Gilpin shifted his efforts to running a planning mill (to create window frames, doors, etc.) on Berford Street (west side, about a quarter of the way north between Frank and George Streets). (For more information, see "Wiarton's Furniture Industry" page on this website.)
Two other mills began operations in the 1870s further north along the shoreline. John Ashcroft started his mill around 1871 [Location 1 in Figure W22B], followed by Arthur Jones [Location 2 in Figure W22] a little to the south in 1873. The start dates for these mills are based information in the 1880 Bruce County Directory. Figure W22C shows an advertisement for Jones' mill from 1879, a picture of the mill sometime after the railway arrived in 1881/2 (with lumber piled high for transport out of town by train), and an ad for Ashcroft's mill from the 1876 Bruce County Directory.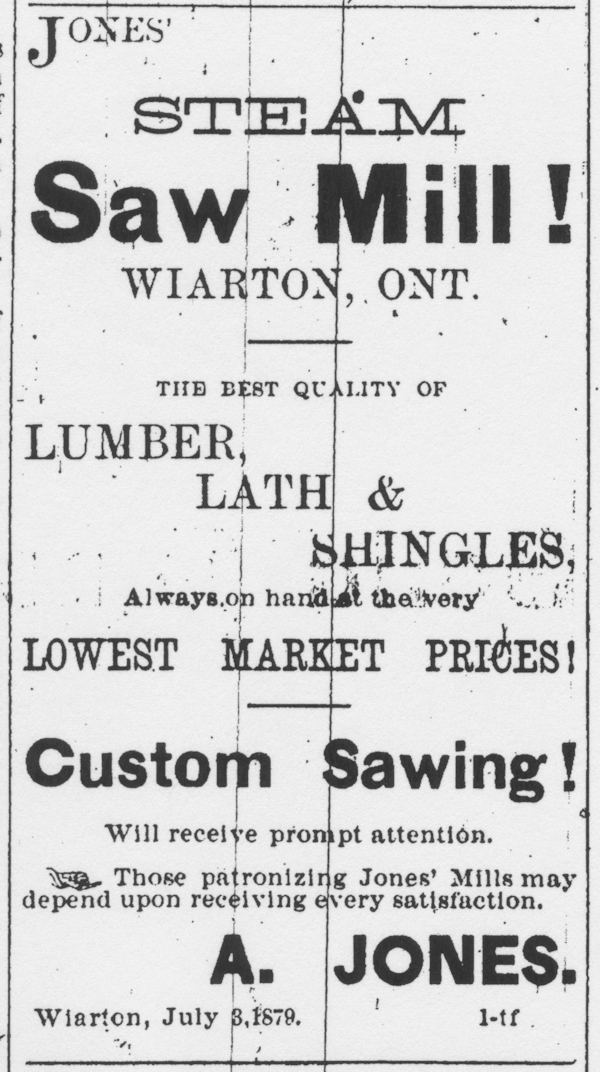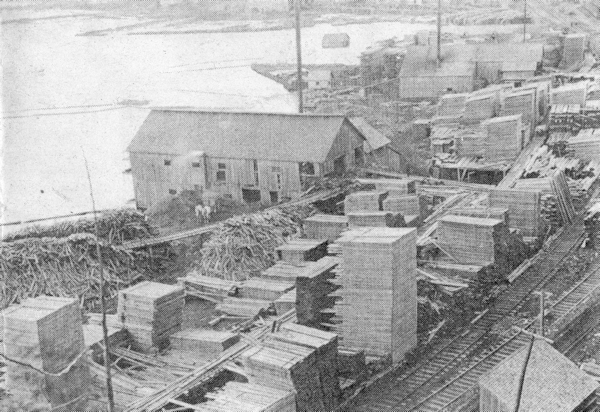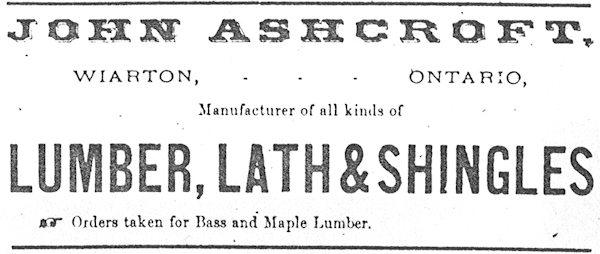 Figure W22C: Top: Ad for Jones Sawmill (1879); Middle: Jones sawmill (after 1882); Bottom: Ad for Ashcroft's sawmill (1876)
In 1879, two men with the last names Blake and Cross began running a sawmill along the shoreline near the corner of George and Scott Street (across from the current location of the Wiarton arena) [Location 6 in Figure W22B]. This mill was shortlived, lasting only a year or so. An 1879 ad for the mill is shown in Figure W22D.


Figure W22D: Ad for Blake & Cross sawmill (1879).
In October 1881, John Kidd purchased an existing sawmill from W.D. Bell in Colpoy's Bay village. In June the following year, this mill burned down. As a result, Kidd, now in business with his brother Joseph as J & J Kidd, decided to build a larger mill located in Wiarton, giving the town a fourth sawmill. Beginning operations in September 1882, the Kidds' mill was located to the east of the original train station, on the shoreline between Division and William Streets [Location 4 in Figure W22B]. This mill is visible in the background of the middle image in Figure W22C, above. In addition to an 800 foot wharf, the brothers made sure to build a tramway from their mill to the new Grand Trunk railway line that had officially opened the previous month. By 1885, Joseph had left the business and the name had changed to John Kidd & Son.
In 1882, James Inksetter and William Young jointly established a mill near the former location of the earlier Blake & Cross sawmill, on the shoreline north of George Street [Location 6 in Figure W22B]. Two years later, James Sills & Co. built a sawmill nearby, along the shore east of Brown St. and west of Scott St., roughly where the town's boat launch is today [Location 5 in Figure W22B]. In the background of Figure W22E, one can see two long wharves with logs in between. The more distant of the two was the wharf built by Mr. Sills in February of 1884. The wharf closer to the foreground was built for the Kidd mill in March 1883 and measured 800 feet long. There were concerns at the time that the two wharves would block access to the bay from Brown Street.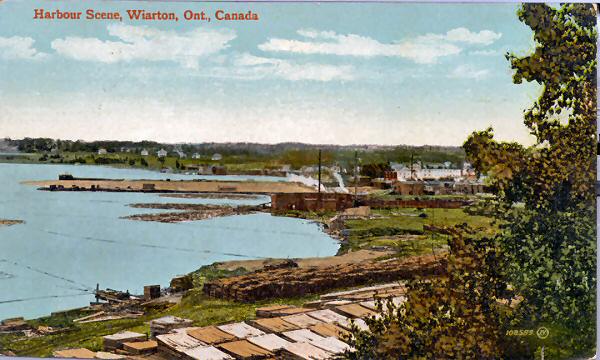 Figure W22E: View of Wiarton shorelone around 1910, showing the long wharves built for the Kidd (nearer) and Sills (further) sawmills.
The Sills & Co. mill was leased and run by William Young in May 1886, in addition to his first sawmill (James Inksetter appears to have left the firm by this point). However, the Sills mill was destroyed by fire only two months later from suspected arson. Mr. Young continued to operate his original mill [Location 6 in Figure W22B], while the Sills & Co. land was put up for auction. Robert Reid won the auction in October 1887, with plans to rebuild. However, these plans never materialized, and Arthur Seaman ended up purchasing the lot in April 1889. In October of that year, Seaman purchased a sawmill on White Cloud Island (previously owned by John Kidd with machinery originally used in the Thomas Galbraith mill in Colpoy's Bay village) and moved it to former Sills & Co. site [Location 5 in Figure W22B]. He went into partnership with JP Newman. In November 1897, J.P. Newman bought out Allan Seaman's share of their firm and continued the mill on in his own name. Figure W22F provides a picture of the Newman mill in 1899.

Figure W22F: J.P. Newman's Sawmill (c. 1899)
Meanwhile, William Young built a larger sawmill (40x80x24 feet) on his site in July 1890 [Location 6 in Figure W22B]. Interestingly, about a year after Wiarton had first established electrical service, Wiarton's original power generating station was moved from the waterworks plant along the north shore, and attached to Young's sawmill in March of 1891. In addition to sawing lumber, Young was now producing electricity for the entire town. Unfortunately, the whole facility was lost to fire in September 1893. The decision was then made to build a new electrical plant that would, once again, run off the pump house for the town's waterworks system. William Young rebuilt his sawmill (identical to the one lost in the fire) and resumed operations by November of that year.
Low water levels in late 1891 convinced John Kidd to move his sawmill closer to the bay. This may also have had something to do with the Jones Bros' decision in January 1892 to build a new mill (standing over the water on crib work) directly in front of their old mill. Completed in May of that year, the new Jones mill boasted a band saw (rather than the typical circular saw), and was one of the largest mills on Georgian Bay with a capacity of 25 000 board feet of lumber in 10 hours.
Gideon Kastner, a name still widely associated with Wiarton, entered the business in May 1894. He erected a new sawmill north of Jones' mill on the former site of the John Ashcroft sawmill (now the southern portion of the Wiarton marina) [Location 1 in Figure W22B].
The Kidd mill was sold to Robert Watt in December of 1897. About a year later, Mr. Watt built a new mill just north of the old one [Location 4 in Figure W22B]. At two storeys with dimensions of 84x30x24 feet, a 125hp boiler and 20 000 board foot/day capacity, Watt's mill staked a major presence in the town. In June of 1899, the town's electricity plant was moved once again, and attached to Watt's sawmill. Figure W22G shows Watt's mill around 1899 and an invoice for an order of hardwood slabs from Watt's mill in 1903.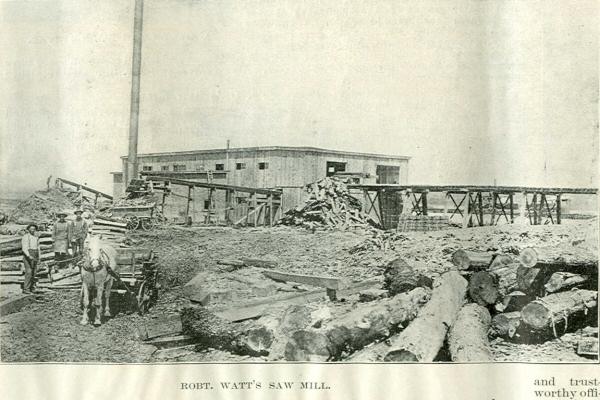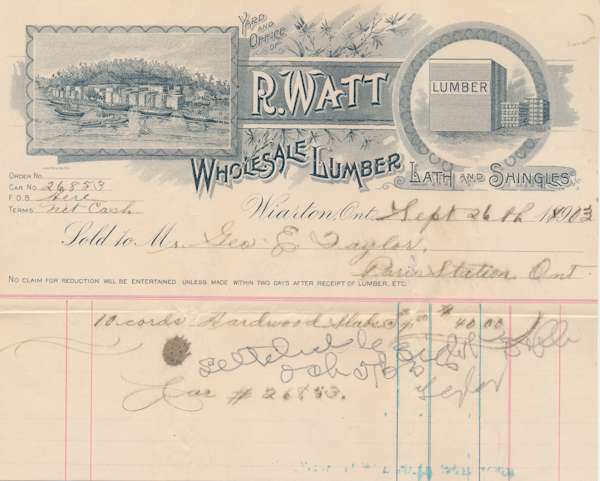 Figure W22G: Top: Robert Watt's Sawmill (c. 1899); Bottom: Invoice from Watt's mill (c. 1903)
Charles Witthun set up shop in May 1899 when he moved his sawmill operation from Shallow Lake to Wiarton, just below the famous "Spirit Rock" cliff [Location 0 in Figure W22B]. Witthun's mill was a large one (40x100 feet), built along the north end of Wiarton's shoreline, with a rail siding along the full 1000 foot frontage of the property. However, Witthun's mill ceased operations by April 1902. It was dismantled that fall, and moved to Owen Sound. Although short-lived, Witthun's mill was photographed shortly after construction in 1899, as shown in the top image of Figure W22H. The former location of Witthun's mill is still discernable today (bottom image of Figure W22G).


Figure W22G: Top: C.H. Witthun and Co. Sawmill (c. 1899); Bottom: Remains of Witthun's mill in 2013.
In November 1899, William Young left the sawmill business and sold his mill to the Siemon Bros., to provide lumber to the furniture factory they had set up in Wiarton the year before, as well as the new table factory they would build in 1900, across George St. from the mill (see Wiarton Furniture Industry page on this website for further information) [Location 6 in Figure W22B]. Figure W22H shows the Siemon Bros. mill in 1899.

Figure W22H: Siemon Bros. Mfg. Company Sawmill (c. 1899)
In November 1902, a swap, of sorts, took place. The Jones Bros. sold their mill to Gideon Kastner. Kastner moved his operations to the former Jones Bros. mill [Location 2 in Figure W22B], and used his previous sawmill [Location 1 in Figure W22B] as a storage building. The machinery from his previous mill was given to the Jones Bros., so they could establish a new mill on the north end of Wiarton's shoreline; however, it doesn't appear that this new mill was ever built. Rather, the Jones Bros. left town to run a mill on the other side of Georgian Bay in Katrine Station, south of Burk's Falls. In April of 1903, Kastner's original mill was purchased by the firm of Parke, Parke and Chapman and moved to Louisa St. to serve as a warehouse for their furniture store.
In May of 1903, JP Newman's mill caught fire and was destroyed. A larger replacement opened for business that July, as shown in Figure W22I.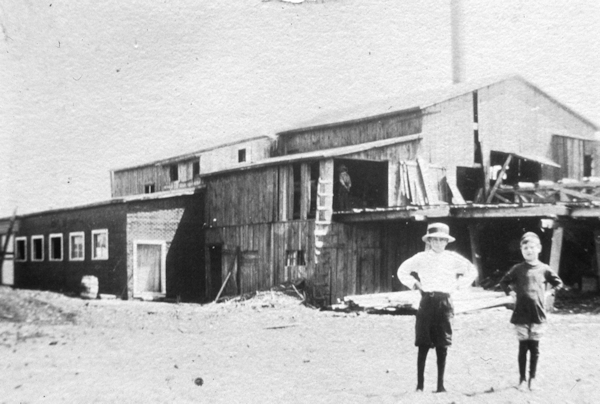 Figure W22I: JP Newman's sawmill sometime after it was rebuilt in 1903.
On October 22nd of that year, the Siemon Bros. sawmill, which had since been absorbed into the Canada Furniture Manufacturers conglomerate, was also destroyed by fire. The mill was not rebuilt and CFM's furniture operations resorted to using lumber from other sources.
Figure W22J, part of a fire insurance map, shows the location of both the Newman and Watt sawmills in 1904.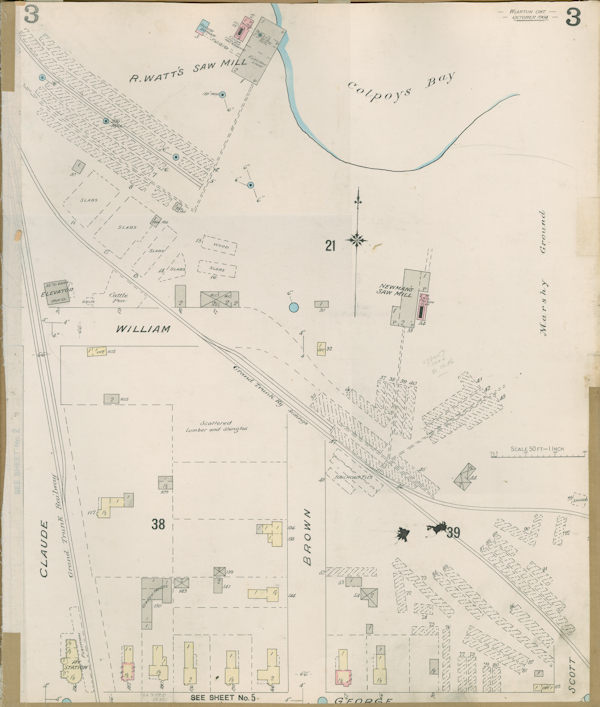 Figure W22J: Location of the Watt and Newman sawmills as shown on a fire insurance map dated 1904.
In what was the largest lumber deal on the Bruce Peninsula to date, Robert Watt sold his mill, timber limits and equipment to the trio of George Niebergall, James Hunter and John Crawford in April 1905. At this time, there were three sawmills in operation: Kastner's, Newman's and that of Niebergall, Hunter & Crawford. By 1907, the latter mill was being run by Hunter, Crawford & Johnston since Niebergall has left (probably the year before) to open his own sawmill in Keppel township, just outside of Wiarton's town limits [Location 9 in Figure W22B]. In September of 1907, a new operation arrived on the scene when E.M. Miers moved his mill to Wiarton from Tobermory [Location 8 in Figure W22B].
As of June 1910, the Canada Lumberman periodical noted there were 5 mills "working overtime" to meet demand. In March of the following year, a sixth was added when TJ Moore moved his sawmill and woodworking operation to Wiarton from Oliphant [Location 7 in Figure W22B].
In 1912, EM Miers had plans to move his sawmill west to British Columbia or Alberta. Instead, the mill was sold to Charles Pedwell of Lion's Head, Ontario in December 1913. It was stated in the Wiarton Echo that Pedwell would continue to run the mill in Wiarton, but this does not seem to have happened. I've found no further mention of this mill so it was likely disassembled and moved elsewhere.
In November 1914, Siemon Bros. Ltd. re-entered the sawmill business when they purchased George Niebergall's sawmill in Keppel Township to the east of Wiarton's town limits [Location 9 in Figure W22B]. The lumber produced by the mill would supply their flooring and casket factories.
The years of World War 1 were not easy for Wiarton's sawmill industry, with restricted access to overseas markets and smaller cuts of timber, in many ways marked the beginning of the end. In an editorial, the Wiarton Echo suggested in 1915 that the mill-owners should band together to attract large war orders. This doesn't appear to have happened.
The number of mills declined to four following a fire that destroyed the Johnston, Hunter & Crawford mill in November 1916 [Location 4 in Figure W22B].
Although it seems business picked up somewhat after the war, the industry was still in overall decline. Gideon Kastner's mill burned down in March of 1922 [Location 2 in Figure W22B]. He replaced it on the same site by buying and moving George Niebergall's former mill from Keppel Township. Presumably, Siemon Bros. ceased running that mill around 1919 following the closure of their flooring factory in 1918 and the casket factory in 1919.
March 1923 marked the end of another of the industry's mainstays, when Newman's sawmill was destroyed by fire [Location 5 in Figure W22B]. Following JP Newman's death in 1918, it had been run by his two sons, but had recently been purchased by Crawford & Niebergall who planned to sell the machinery and dismantle the building. Most of the equipment had been removed before fire struck. It was suspected that boys smoking around the mill had started the fire accidentally. There was no insurance coverage for the loss.
At this point, there were two mills remaining in Wiarton. Gideon Kastner's mill continued to run until 1927 when it closed due to an insufficient supply of wood. In short, the stock of trees that had fuelled the industry since the pioneer days was running out. Figure W22K shows Kastner's mill in its later years.

Figure W22K: Gideon Kastner's sawmill in the later years, around 1920.
This left TJ Moore's sawmill as the last vestige of this one dominant industry in Wiarton. Having last operated in 1938, the mill was destroyed by fire at 10:30pm on August 23rd, 1945 [Location 7 in Figure W22B].
With that, Wiarton's sawmill industry had come and gone. The town's shoreline, once stacked high with lumber and filled with the sounds of mill blades and steam engines had fallen silent. The death of this industry, however, paved the way for what is today one of the jewels in Wiarton's crown. In the early 1920s, calls were being made to establish a park on the shoreline. In 1925, the local Women's Institute began cleaning up the area for this purpose. Following a contest to name the area, Blue Water Park was born in June of 1928. The park was expanded through the years as the sawmills shut down. Lands formerly occupied by Kastner's and Newman's sawmills were added to the park in 1933, although they sat largely untouched until finally being cleaned up in 1941. Figure W22L shows the shoreline around this time. (For more information on Bluewater Park, see the page on this website entitled "Bluewater Beach.")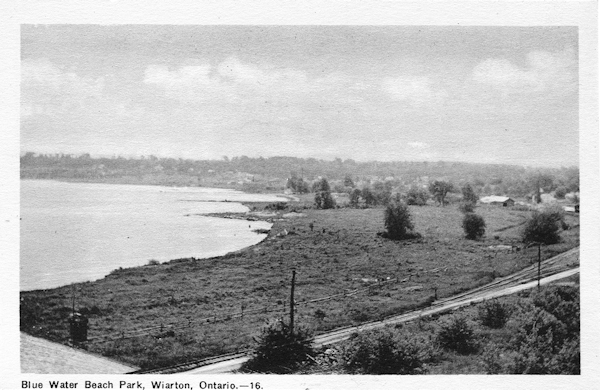 Figure W22L: Wiarton shoreline in the 1940s. Little trace remains of the sawmill industry and Bluewater Park is largely barren.
By 1950, the park had become a popular place for swimming, camping and sports with a baseball diamond being erected. It remains today, a serene setting to take in the beautiful blue waters of Colpoy's Bay. The next time you stand in the park, take a look around and think of the sawmill industry that once stood in its place.

Postcards From the Bay was launched April 14, 2000

Visit Wiarton.ca